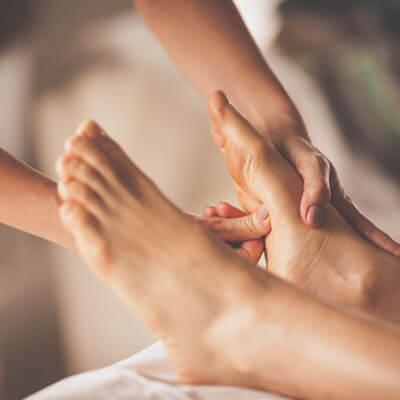 While many people think of massage as a luxurious spa treatment, deep tissue massage is different. As a massage technique mainly used to treat musculoskeletal issues, such as strains and sports injuries, deep tissue massage involves applying sustained pressure using slow, deep strokes.
These strokes target the inner layers of your muscles and connective tissues to help break up scar tissue that develops following an injury, and decrease tension in muscle and tissue. Deep tissue massage may also promote faster healing by increasing blood flow and reducing inflammation.
What to Expect
Your massage therapist will ask what is bothering you when you come in for your session, which is what they try to focus on. "Just because someone says it's their back doesn't mean it's their back causing the problem. We try to look for other areas for referred pain and try to help that area," said Kimberly, one of the MTs at Manatee Wellness.
During your session, your massage therapist works a deeper layer where trigger points often lie. "We try to find what's causing your issue, and work through that to get it to relax and get you some relief. Each client's massage is unique to their injuries," said Kimberly.
How Soon Will I Experience Relief?
You will feel relief on the first visit. The more massages you do, the better you will feel, and the longer you will feel the effects, particularly if you have an injury.
Discover how much better you can feel with
massage therapy
. We offer 30- to 60-minute sessions. Contact us today to book your time!