Acupuncture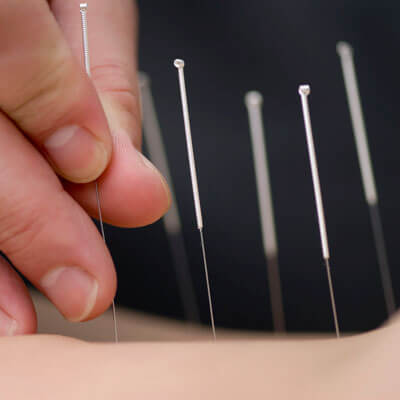 Our medically-based form of acupuncture is designed to improve your body's function. You can have it done alongside your chiropractic care or experience the benefits of acupuncture all on their own.
There is a myriad of ailments that can be addressed using acupuncture, such as
Bell's palsy
Bursitis
Carpal tunnel syndrome
Disc herniation
Frozen shoulder
Headaches
Inflammation
Knee pain
Low back pain
Plantar fasciitis
Sciatica
SI dysfunction
Tendinitis
Tennis/golfer's elbow
Trigger points
Vertigo
You may have heard of people going to acupuncture for smoking cessation or infertility. No matter what your concern is, we will make every effort to address it with acupuncture.
Some people are worried that acupuncture will be painful. The needles used in acupuncture aren't like the ones used for injections. They are hair-like and thin, so much so that you won't even feel them going in. The goal is to increase your range of motion and relieve your pain.
If we don't get the results that we've hoped to see, we'll discuss other options. We'll never ask you to sign up for a long treatment plan or stick with something that isn't working for you.
Dr. Justin is further specialized in chiropractic acupuncture in 2009 with a Fellowship from the International Academy of Medical Acupuncture. Acupuncture is another option to offer without resorting to medications. Drawn to broaden our scope to do everything we can to help patients.
Call Us Today
You can reach our team by phone or email. Contact us now to set up your first appointment for acupuncture Bradenton! We have same-day visits available.
CONTACT US »

Acupuncture Bradenton, Parrish FL | (941) 756-4362