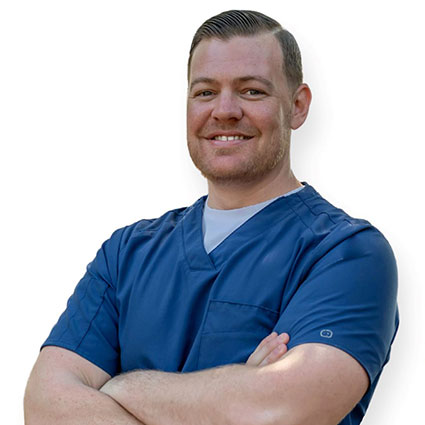 Meet Dr. Andrew (Drew) Myers, Chiropractor
Dr. Drew was born in Indiana, but moved to Florida as a young child. He attended the University of South Florida where he obtained a Psychology degree and went on to the renowned Palmer College of Chiropractic to focus on a career in natural health. While at Palmer College he got an extracurricular certification in chiropractic biophysics.
Though becoming a chiropractor wasn't always Dr. Drew's plan.  While he was in college one summer, he hurt his back and his parents recommended that he visit their chiropractor. When he did, he found himself enamored with the profession—and especially with the results he experienced firsthand.
That chiropractor not only helped him heal his injury, but instilled a new passion in him that he wanted to spread to others. Ever since that moment, he's worked to help others live a pain free, happy, and healthy life.
Dr. Drew is currently working towards his diplomate status in the technique Chiropractic BioPhysics – The Science of Spinal Health (idealspine.com).
"I love seeing people achieve their goals and seeing them feel better without having to use medication or have surgery," says Dr. Drew.
Outside of the Practice
When he isn't changing lives at Manatee Wellness, he enjoys spending time with his wife, Jordan, who is also a chiropractor specializing in pregnancy and pediatric patients. The pair actually met in chiropractic school, and have been inseparable ever since. The couple has one daughter.
Dr. Drew is an avid sports fan, with his two favorite teams being the Tampa Bay Lightning and Green Bay Packers. He also officiates high school and college football.
Call Now
Get to know more about him when you visit us for your next appointment! He looks forward to welcoming you into his care. Call our team today to schedule your appointment.


Dr. Andrew (Drew) Myers | (941) 756-4362